We've been writing a lot about alternatives to traditional yoga, such as Aerial Yoga, Kundalini Yoga and Meditation, Kundalini yoga on horseback, and Hot Yoga. Each has their own benefits for the mind and body, and traditional yoga can sometimes become boring for some yogis who are looking for something different and looking for a challenge.
Read:
Aerial Yoga — Combining Traditional Poses with the Aerial Arts
The Misinterpretation of the Benefits of "Hot Yoga"
Rope Yoga (also called Rope Wall Yoga) is another type of yoga that you may be interested in trying if you are looking beyond the flat mats of traditional yoga.
What is Rope Wall Yoga?
Rope yoga is a new way to achieve a more effective, stronger, and deeper stretch in the body. While not "new," per se, this type of yoga has been in practice for decades by those who practice the Iyengar Yoga method. This tool has been used in many studios to offer its benefits to alternative yoga seekers.
You may think that Rope Yoga sounds a bit like Aerial Yoga, but the two are very different in many ways — while both certainly build up strength through a free range of motion and allows for decompression of your joints and stretches your muscles — Rope Yoga is practiced from the ground and vertical wall.
How it Works
Rope wall yoga was designed by Indian yoga master B.K.S. Iyengar in order to allow for proper body alignment, support injuries, and to deepen access to poses. The way it works is ropes are attached to rungs which are drilled into a sturdy double blocked wall, which offers support and resistance to the yogi. Using these ropes helps with decompression of the joints and is great for loosening up your muscles regularly or on a regular basis.
Benefits
Rope wall yoga is great for yogis who may be injured, stiff, or unable to perform traditional yoga poses without proper stability (the ropes). You can practice rope yoga short term, occasionally when your body is stiff, when you are injured, or on a regular basis – no matter when or how long you practice it, you will still benefit from its supportive benefits to your body without having to give up yoga.
One of the most popular benefits people get out of rope wall yoga is the ability to get a much deeper stretch out of a pose than you typically can on a flat mat. Because the traction of the ropes provides safe support for yogis that can be leveraged for deeper chest openers, spine extenders, and even standing poses.
In addition to being able to do poses in a deeper position, you can also hold your poses for longer than if you were on just your mat in the middle of the room. Breathing and achieving a meditative state of mind is important when practicing your yoga poses, so being able to hold your poses longer and better allows you to focus on breathing without worrying about balance, and can result in a more profound release in your nerves and muscles.
Conclusion
Most Iyengar yoga studios have a rope wall to use, but you can always check online and call local studios to see where you can find one. Even yoga studios who are not Iyengar-specific have introduced rope walls into their spaces as well.
This is definitely a yoga model that anyone can practice and it is certainly worth trying out.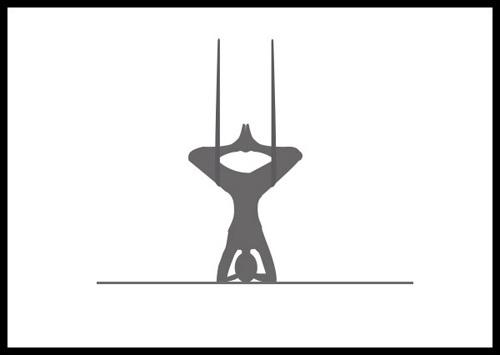 Read Next
The Leaf: An Innovative Activity, Sleep, Meditation, and Reproductive Health Monitor
Aerial Yoga — Combining Traditional Poses with the Aerial Arts
Is Your New Year's Resolution to Get Fit Again?
Unique Yoga Pants and Leggings