Summer is fast approaching us (at least it feels this way here in South Florida) — if you are wanting to get started on toning up before summer hits and getting rid of the cold, winter bod, you can skip the gym and take up yoga.
Everyone knows how great yoga is for turning your body into a pretzel, relieving stress, and clearing your mind — but who among you have really taken notice at just how well yoga tones a yogi's legs and arms? I certainly have (no shame to my game).
These yogis are getting ripped and toned bodies without stepping foot into a gym, huffing it on the treadmill, and especially without heading to the dumbbells and grunting in front of the gym mirror making us all uncomfortable (now that I think of it, my NordicTrack is great for cardio, but is seeming less and less useful in comparison to yoga).
So, skip the traditional gym (especially if you were going to anyways), and make a real effort to get back into yoga (or into yoga for the first time). Yoga is a wonderful way for people who don't have the time for going to the gym and waiting months for results to get fit. It also helps those of us who hate to spend hours upon hours in a room that has a bunch of dudes with huge biceps and terrible electro-pop music blaring.
Yoga focuses on a much more peaceful atmosphere that calms the mind and actually allows you to look forward to going to yoga rather than dreading going to the gym. Yoga is also a great alternative in terms of consistency — yoga works different parts of the body from lungs to spine to muscles — and you don't have to force yourself to head to the gym or skip out and give up.
When doing different breathing exercises and poses in yoga, your muscles are being toned and you don't even know it. Holding those poses over extended periods of time (even the ones that look easy) is toning your muscles and can get you into shape.
You don't need dumbbells or barbells to begin getting your muscles strong and looking incredible — once you try out yoga and get your quads shaking from holding a Warrior II for what seems like forever — you'll know what we're talking about. The same goes for planking — this is why poses like these have become so popular, even out of the yoga scene — the effects and results you get from strengthening your muscles and core are far more beneficial than a superficial fun on the treadmill.
Think about it this way: rather than using a tread, elliptical, barbells, etc…as resistance training, why not use your own body? It is, after all, the best barbell there is. The most practical way to get used to lifting is to use your own body since you are in it 24/7.
The University of Wisconsin's Human Performance Laboratory University did a study on yoga in which subjects practiced Hatha yoga for 55 minutes, three days a week, for a total of eight weeks. In this time (only two months!), the researchers noticed a marked improvement in the subjects' endurance and their strength.
Furthermore, the American Council on Exercise stated on this study above: "In particular, chest and abdominal strength and endurance was increased significantly, enabling the yoga group to perform an average of six more push-ups and 14 more curl-ups following the study period."
You can take your own yoga practice as extreme, frequently, infrequently, and fast/slow-paced as you wish — but the fact is, if you do take up yoga, you will see an improvement in your body strength, toned muscles, and your endurance — and you don't have to head to the gym or stress yourself out before or after work every single day.
Instead of stressing your body by blasting through your adrenaline and eventually hitting a plateau, yoga pushes your body while in a calm state of mind — using alternative poses to constantly trick your muscles into toning up with variety, yoga is smart, feels good, and will make you look good, too.
As a full-body workout, yoga requires more than "ohm-ing" — it requires, balance, breathing exercises, calming of the mind, stretching, and committing mentally to this physical and spiritual practice. Now, to balance, you need control of all of your muscles.
The downward dog pose, for example, actually uses every muscle in your body — did you know that? This is because the pose was created so that you must use your muscles, especially your core, in order to keep from tipping over.
When you engage your abs and pull your chest up simultaneously so your back doesn't over-extend, you are using the resistance from your own body in order to keep the simple alignment — and you are using your entire body to do it.
Yoga is pretty damn smart, isn't it?
Another huge plus for most people is that yoga does not feel like a workout. We are all used to running, gasping for breath, feeling the burn in our quads, sweating like a we just ran through a tropical rainforest, and trying to keep mentally strong through traditional gym workouts.
Yoga is a much different experience — and that is why it works and why it is highly favored by yogis over their old gym membership.
When you focus on your poses and alignment and breathing — everything else disappears. You forget about how hard your muscles are working and you aren't looking at a calorie-burning screen or checking to see how many miles you just ran. The mental stress of holding on while running is absent and you aren't stressing about the day's events. This type of distraction is peaceful and allows you to become more in-tune with your body.
When you hone in on the body and your movements, you distract yourself from sore muscles or fatigue. With peaceful music playing in the background, fellow yogis around you working in sync, and a calm-voiced instructor, you may feel more confident and calm than ever.
Yoga is also more fun than working out to "energetic" music that is intended to motivate you. Yoga itself is a motivation and it uses peace, tranquility, mental and physical practices, and a completely approach to accomplish better results.
Someone yelling at you to keep pedaling, do five more reps, run faster, or other less-kind things is just not for everyone — in yoga, when you are told to do a standing forward fold pose, you think, okay, let's do this — your mind doesn't register that you're going to be working your quadriceps — when you do the cobra pose, you also don't think about it strengthening your wrists, arms, spine, and butt either! Yoga essentially brings you in-tune with your body while tricking it into toning up.
Finally, yoga has been around for thousands and thousands of years — this is a practice that has not died out a bit (and in fact, has spread to every corner of the globe) — and why? Because it is tried and true.
Since 2250 BC, yoga has been practice as a technique to release energy, meditate, and more. Gyms weren't a thing — running away from predators was. Crossfit was doing field work and chores.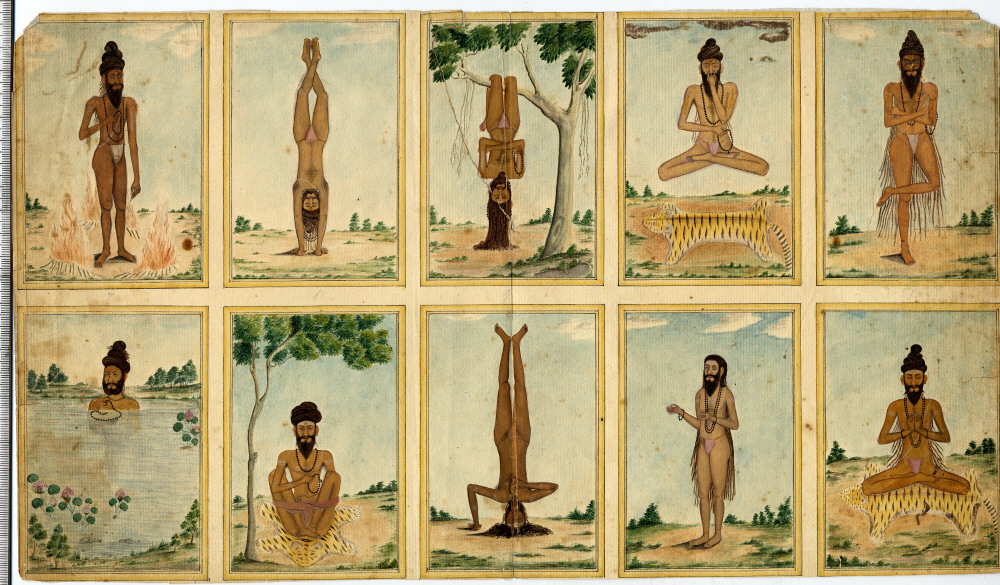 And you can find a yoga studio near you — it has been found that there are around 36.7 million yoga practitioners in the U.S. alone. So, while all of these yogis are walking around with impressively cut yogi-triceps this summer, maybe you can make a change and trade in the dumbbells and treadmill for a yoga mat.
Read Next
Tactical Yoga Pants for Women? YES PLEASE
Balancing and Breathing: How Yoga Benefits Your Body & How to Get Started
Quality and Reliability Matter: Pros and Cons of the Top Yoga Pants and Legging Brands
Rope Wall Yoga: What is it and Should You Try it?
My ZenSense: A New Range of Natural Ultrasonic Diffusers